Microdermabrasion is a simple cosmetic procedure designed to safely exfoliate the outer epidermal layer of the skin, removing dead, dull skin cells to reveal the fresh, younger-looking skin beneath. Diamond head Microderm gently sweeps away the damaged surface cells, encouraging the skin's natural renewal process for the radiant, refined skin to shine through. The procedure is quick and painless. And, while just one treatment may produce results, additional treatments are desirable and recommended to attain - and maintain - the dewy complexion desired. Why pay the high prices of up to $200.00 when you can get the same results here with Microdermabrasion treatments for a fraction of the cost.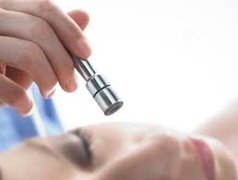 What are the benefits?
By removing the damaged top layers of the skin, Microdermabrasion can literally help undo the ravages of time. After just one treatment, it can diminish fine lines and wrinkles, fade age spots and superficial sun damage, refine enlarged pores, equalize skin tone, and stimulate circulation. Overall, the effect is much like turning back the clock to restore the silky soft skin of younger years.
Are there risks?
Microdermabrasion exfoliates only the most superficial layer of skin with little or no side affects. If redness or irritation occurs, we can apply less pressure when using the Resurfacing Tool. If you suffer from Rosacea, pustule acne or other sensitive skin disorders, you may not be able to have this treatment.
Recommendation:
4 to 6 treatments once a week.